8 Last Mile Trends To Watch For In 2022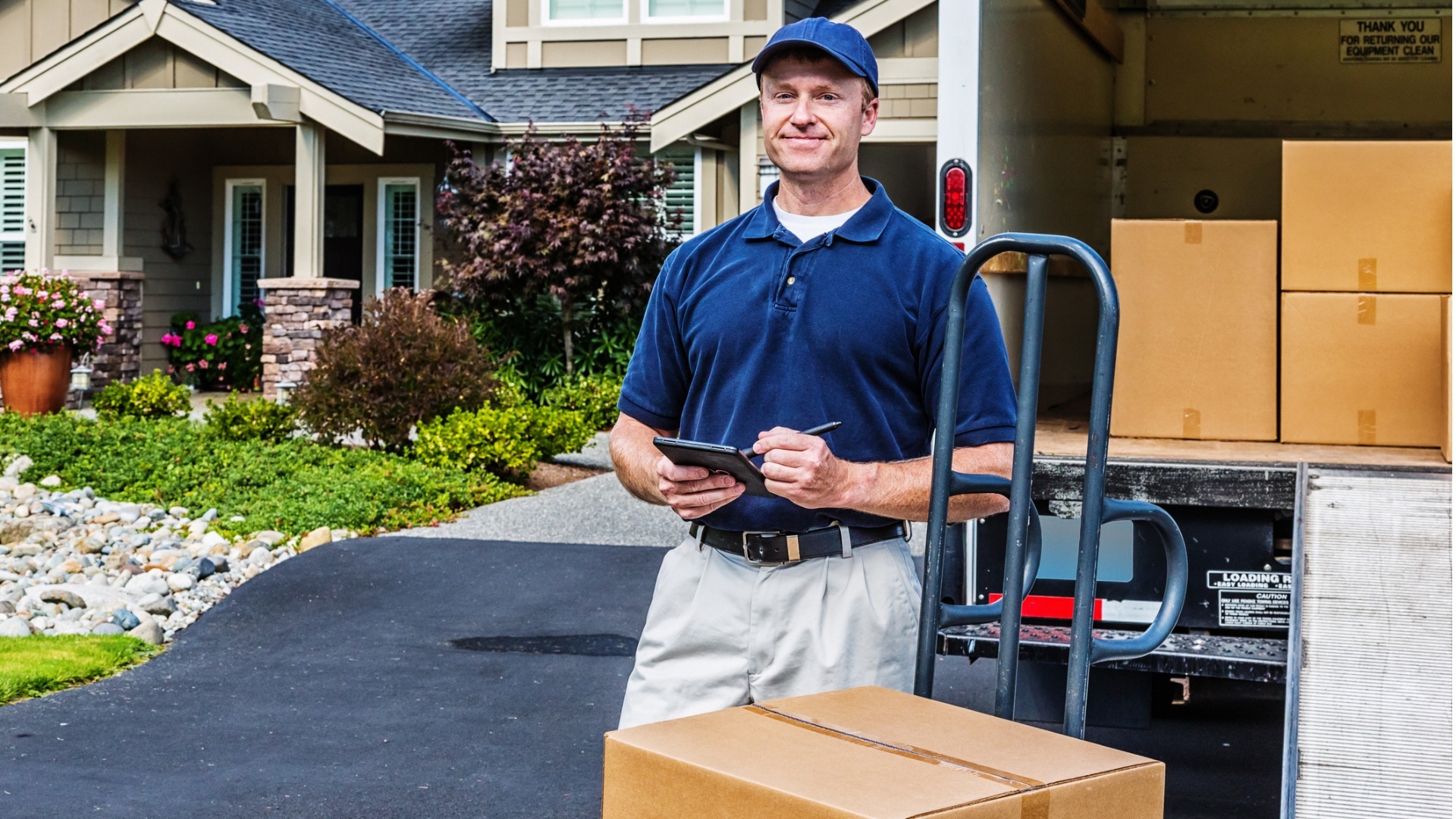 According to Statista, worldwide ecommerce sales will account for 20.4 percent of all retail sales in 2022. Just prior to the pandemic in 2019, online sales made up 13.6 percent of all retail sales.

Online sales, and in turn, the last mile logistics, were already growing exponentially with every passing year. However, the pandemic lit a fire that no shipper could see coming.
As a result, the last mile trends of 2022 are significantly different than those of years past. Take advantage of our list of last mile trends below to help prepare your business for the months to come.
1.) Safety Stock Warehousing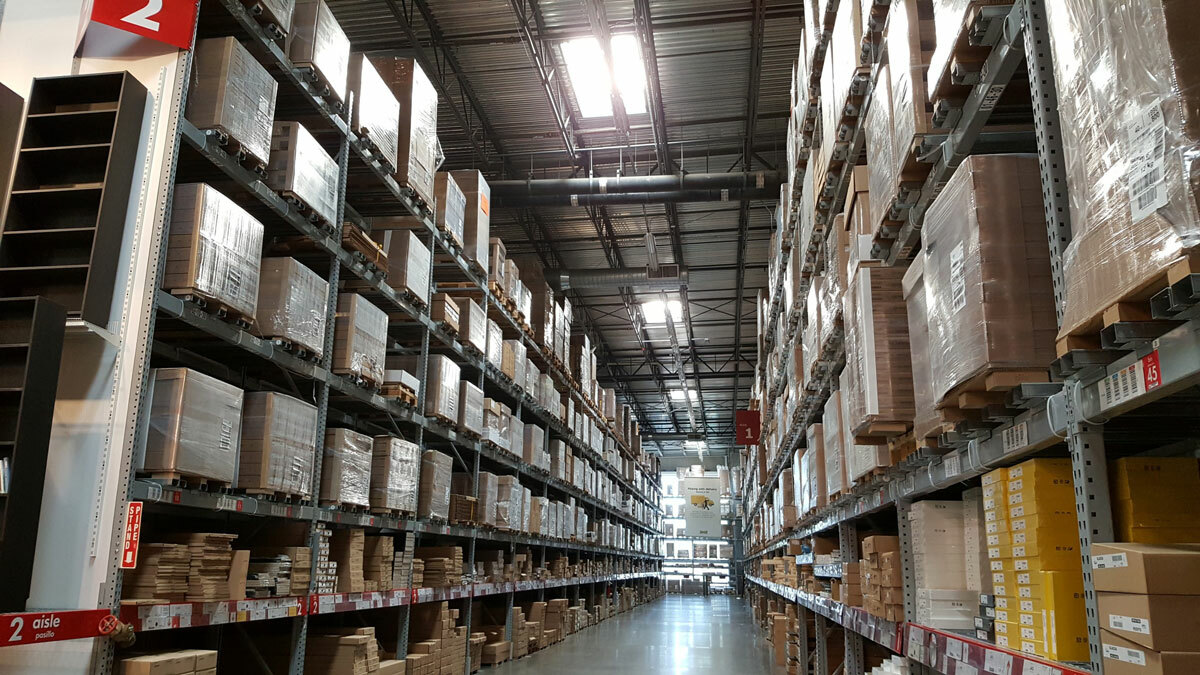 Who would have thought that the second year of the global pandemic would've turned out more challenging than the first? Over the course of much of 2021, shippers across all industries struggled to maintain adequate levels of inventory to meet surging consumer demand.
The main culprit, shipping congestion off the West Coast, created a cascade of supply chain bottlenecks. From intermodal to full truckload shipping, shippers were challenged to receive their products to meet growing final mile delivery demands.
In years past, supply chains embraced the just in time warehousing model. Going forward, more shippers will invest in building up safety stocks to meet seasonal and surge demands. To accomplish this, shippers will need to build strong partnerships with warehouse services providers in order to find adequate space in an already-strained market.
2.) Inventory Positioning
In addition to a return to traditional warehousing of backup products, another last mile trend in 2022 is the continued demand for quick delivery. Though shippers can benefit from utilizing a last mile delivery network to provide nationwide coverage, many customers have come to expect the Amazon Prime delivery standard.
To that point, shippers wishing to meet the demands of final mile delivery and customer expectations may find value in positioning inventory across multiple key markets.
Through a combination of warehousing and a prequalified network of delivery agents, shippers can benefit from a strategy called forward stocking logistics. This strategy helps to ensure that inventory is within range of key markets to provide next- and even same-day delivery.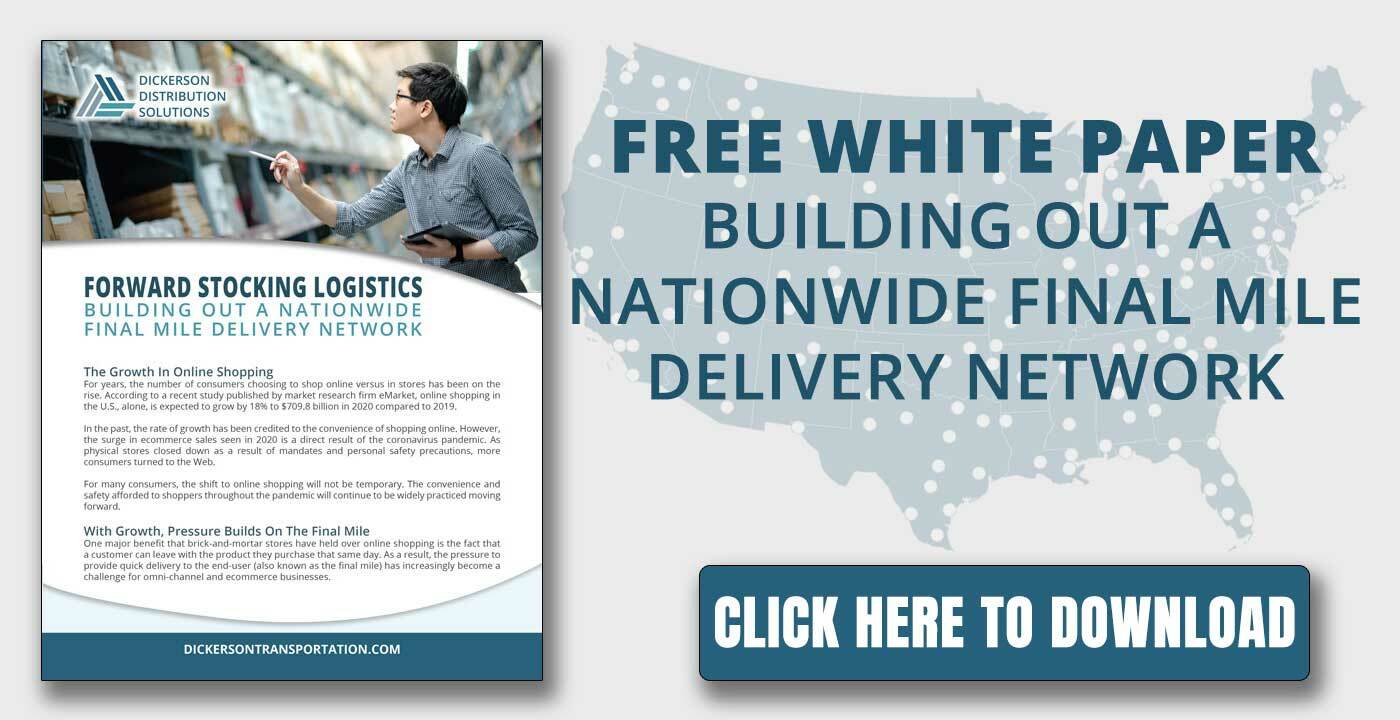 Want to learn how one major retailer embraced this strategy to meet the needs of their customers? Download our free case study!
3.) More White Glove Demand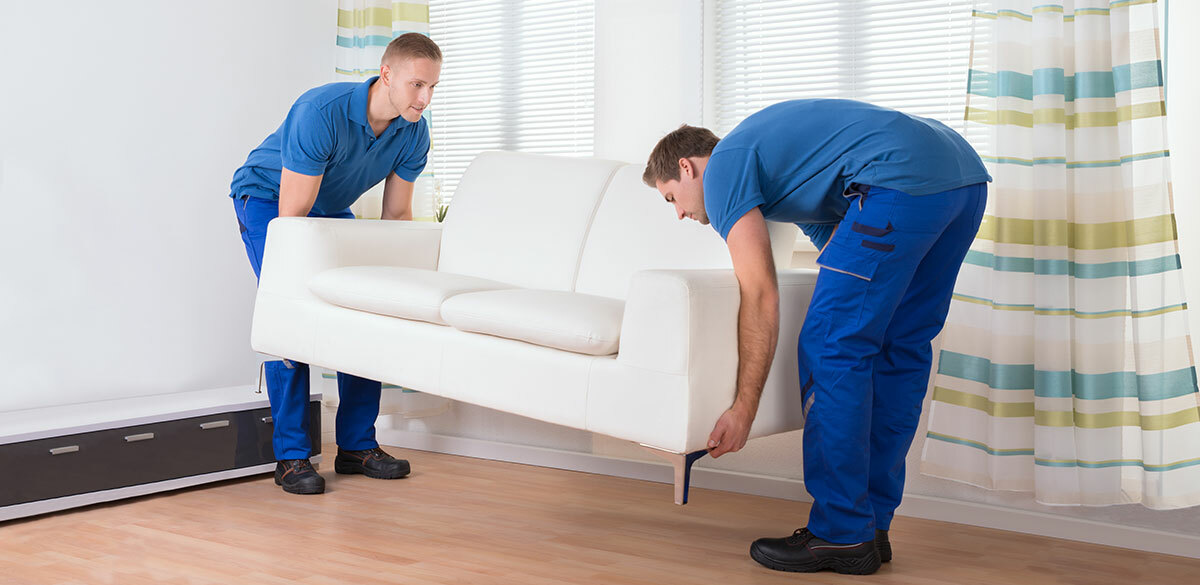 While we are far from through with the pandemic, consumers are desiring a return to normal. With vaccines widely available, the reluctancy to allow residential freight delivery agents inside will continue to decline for many shoppers.
Though the demand for white glove delivery didn't take a huge hit in 2021, the staggering growth in online sales will push the need for this service even further in 2022.

4.) Continued Pandemic Precautions
One of the ongoing last mile trends that the industry will face for some years to come is the precautionary practices to reduce the transmission of COVID. Though many states have become more relaxed with regards to enforcement, there are still many questions related to vaccine mandates and the impact of coronavirus on the final mile.
When it comes to inside deliveries, many agents and couriers will continue to wear masks in 2022. Still, in an industry already challenged by a shortage of employees, mandates may scare off many potential newcomers to the driving profession.

5.) Labor & Capacity Challenges
The truck driver shortage is not limited to less-than-truckload and over-the-road drivers. As reported by FreightWaves, a lack of drivers is one of the primary last mile trends that will bring additional challenges to shippers.
In addition to a whirlwind of supply chain challenges and inflation, 2021 was one of the toughest years on record for companies looking to fill positions across nearly every industry. For shippers moving products direct to residential customers, it may often be challenging to find adequate capacity at affordable rates in 2022.
Nonetheless, partnering with the best service providers can still result in a very successful last mile logistics strategy. By partnering with a nationwide 3PL company rather than limiting itself to one carrier or agent, a business can find the rates and capacity it needs to keep customers happy.
6.) Increasing Need For Better Visibility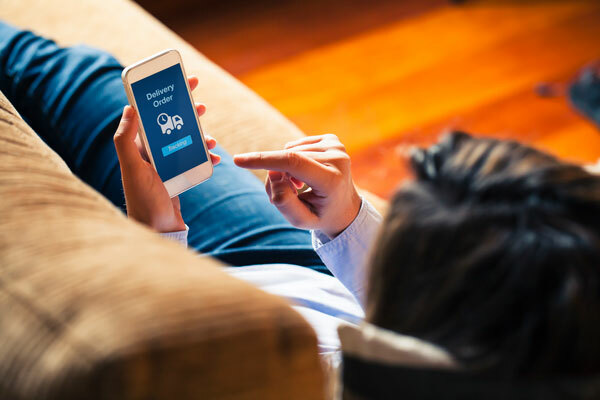 When we talk about shipment visibility, we're not only focused on the end-user. While it is important that customers have the ability to track their shipments online or via text updates, shippers also need clarity.
That's why one of the growing last mile trends in 2022 will be visibility for shippers. By having visibility on the last mile, shippers can:
Deliver better customer service
Reduce claims and losses
Keep track of carrier and agent performance
Plan better for future shipments
7.) Heightened Competition From Giants
With every passing year, Amazon and other large retailers, seemingly take control of more of the supply chain. Amazon, for example, continues to expand its last mile delivery pool of agents.

While great for Amazon and some retailers that sell products through the online marketplace, other businesses have to find ways to compete in terms of supply chain efficiency and customer experience.
Faced with the driver shortage and the driver recruiting efforts of Amazon and its delivery partners, shippers need to make sure they have access to multiple options to ensure they can deliver a great final mile experience that leads to return business.
8.) Leveraging Technology To Close Supply Chain Gaps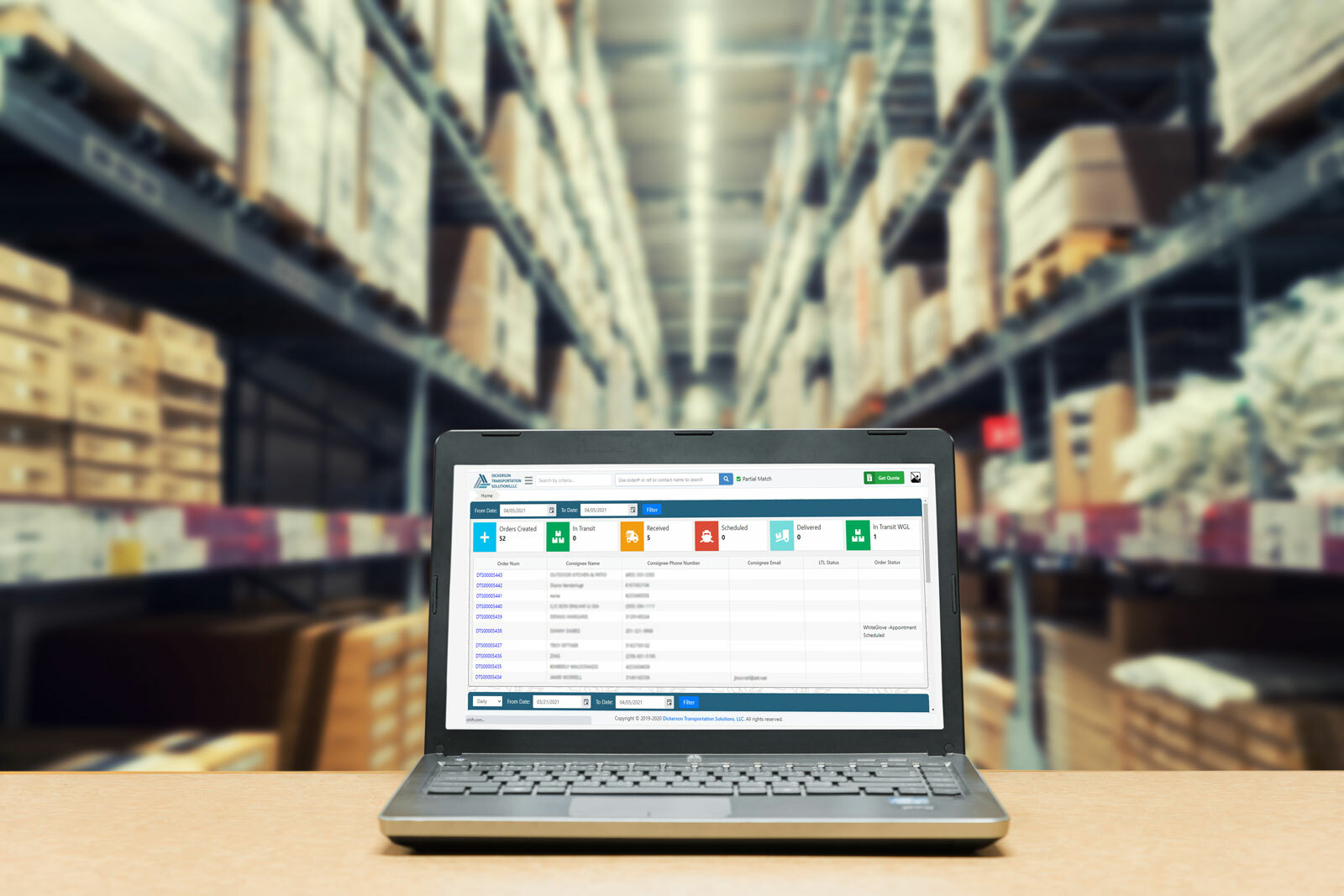 Given all of the challenges that shippers have faced in the past two years, there are still positive last mile trends to look forward to in 2022.
Each year, technology is becoming increasingly more intelligent and better suited to meet the actual needs of shippers. For many years, there has been a gap when it comes to the data flow between the middle and final miles of the supply chain. It's two different worlds that operate in these areas. LTL carriers handle the middle, and couriers and agents handle the final.
Still, supply chains have needs in both portions. With more shippers look to benefit from the growing boon of ecommerce sales, finding a way to link both miles is more important than ever.
New technologies are emerging to bridge the gap. SHIFT, for example, is a transportation management system that does just that.
With SHIFT, shippers have access to:
An established nationwide final mile network that includes white glove couriers
Access to nationwide LTL rates and capacity
The ability to seamlessly book both legs of the journey
Customized delivery options
End-to-end shipment status tracking and notifications
A complete suite of shipment management and history tools
All from one easy-to-use online portal
Request A Free Demo of SHIFT
If you're ready to learn more about how SHIFT can help save you time and money, while also delivering a worry-free experience to your end-customers, our team would be happy to give you a demonstration of our TMS.
To schedule a demo, call our office at (770) 672-4294 or sales@dickersontransportation.com.
Request a free rate quote today!
We're ready to help you achieve your supply chain goals! If you would like to learn how our services can help you reduce your costs and improve your logistics strategy, contact us by email, phone (770) 672-4294, or by clicking the button below.
Contact us today