The Impact of Coronavirus On The Final Mile
As businesses and communities adapt to life with COVID-19, major changes in shopping habits are occurring. Online shopping has seen continual growth for more than a decade. Adding more fuel to its growth, the coronavirus pandemic will have a long-lasting impact on supply chains.
For years, retailers have been forced to adopt e-commerce strategies to meet the changing demands of their customers. This demand has quickly expanded from small parcels to large and oversized products, such as furniture. For the most part, supply chains have been able to keep up with the demand for parcel deliveries. Carriers such as UPS, FedEx and USPS have long-established ground networks to handle residential deliveries.
When it comes to bulky products, however, many retailers are struggling to keep up.
The Way Consumers Shop May Be Forever Changed
Throughout the COVID-19 pandemic, there has been one bright spot for economies: e-commerce. With many non-essential brick-and-mortar retailers closed, shoppers have turned their eyes to the web. From groceries to clothes and bathroom sinks, nearly every product traditionally sold in a store can be found online.
Amazon, the Goliath of online shopping isn't the only e-commerce company to benefit from the pandemic. Furniture and home decor retailer Wayfair has seen its stock value surge more than 400% as a result of increased online sales. The demand, however, has to be met with a strong final mile strategy.
Unfortunately, not every company has the financial resources and fleets to match the power of companies like Amazon and Wayfair. While such companies will stand to continue to benefit from consumer changes, others will need to begin thinking ahead.
It would be a mistake to think that shopping habits will quickly revert to levels seen prior to the pandemic. With the availability of a vaccine several months or years down the road, it will be hard to convince many shoppers to return to crowded aisles. The perception of danger in public spaces will likely affect a large portion of society for years to come.
Adapt Now Or Risk Falling Further Behind
The one thing that hasn't changed for consumers is their expectations. Whether in the store or online, the customer believes they are always right.
"The cashier accidentally overcharged me? I'm not going back there ever again!"
"They delivered my couch two days late? I'll shop elsewhere!"
As humans, we are addicted to positive experiences in our lives. We want to be happy as much as possible. When we have negative experiences, we tend to avoid the triggers in the future. It's just human nature.
Now, more than ever, shipper focus should be aimed at meeting final mile expectations. Every misstep has the potential to cost one more customer. Every misstep is the possibility of losing a customer that will refer multiple customers.
Embrace A Final Mile Strategy
If you're a retailer that sells large or bulky products that aren't suitable for parcel delivery, is your residential delivery strategy currently working? If it isn't, there are several large online retail marketplaces that will be happy to fill the void (ie, Amazon and Walmart). Fortunately, there are options available for those that cannot afford a private nationwide fleet of drivers.
DTS, for example, has established the most reliable nationwide final mile delivery network. Whereas you may be familiar with typical 3PLs that provide truckload and less-than-truckload brokerage solutions, our primary intent when we entered the marketplace was to bridge the gap between retailers and residential delivery.
Today, we offer residential delivery services, including white glove delivery, in every major market in the country. Backed by a network of highly-vetted agents and carriers that specialize in residential shipping, we can quickly connect a shipper to their customer's front door.
In addition to our final mile delivery services, we also provide nationwide warehousing services to help shippers stage their freight for quick one-day and next-day delivery.
As consumers increasingly make big purchases online, meeting the demand for delivery will be the biggest hurdle that many shippers will face. Finding capacity and carriers that understand the delivery experience doesn't have to be difficult. Whether it's Atlanta, Duluth, Orlando or El Paso, the delivery experience should be the same: simple and reliable.
Servicing The Entire United States
The DTS Final Mile Distribution Network provides shippers with quick access to customized residential delivery and white glove delivery services in every major U.S. market!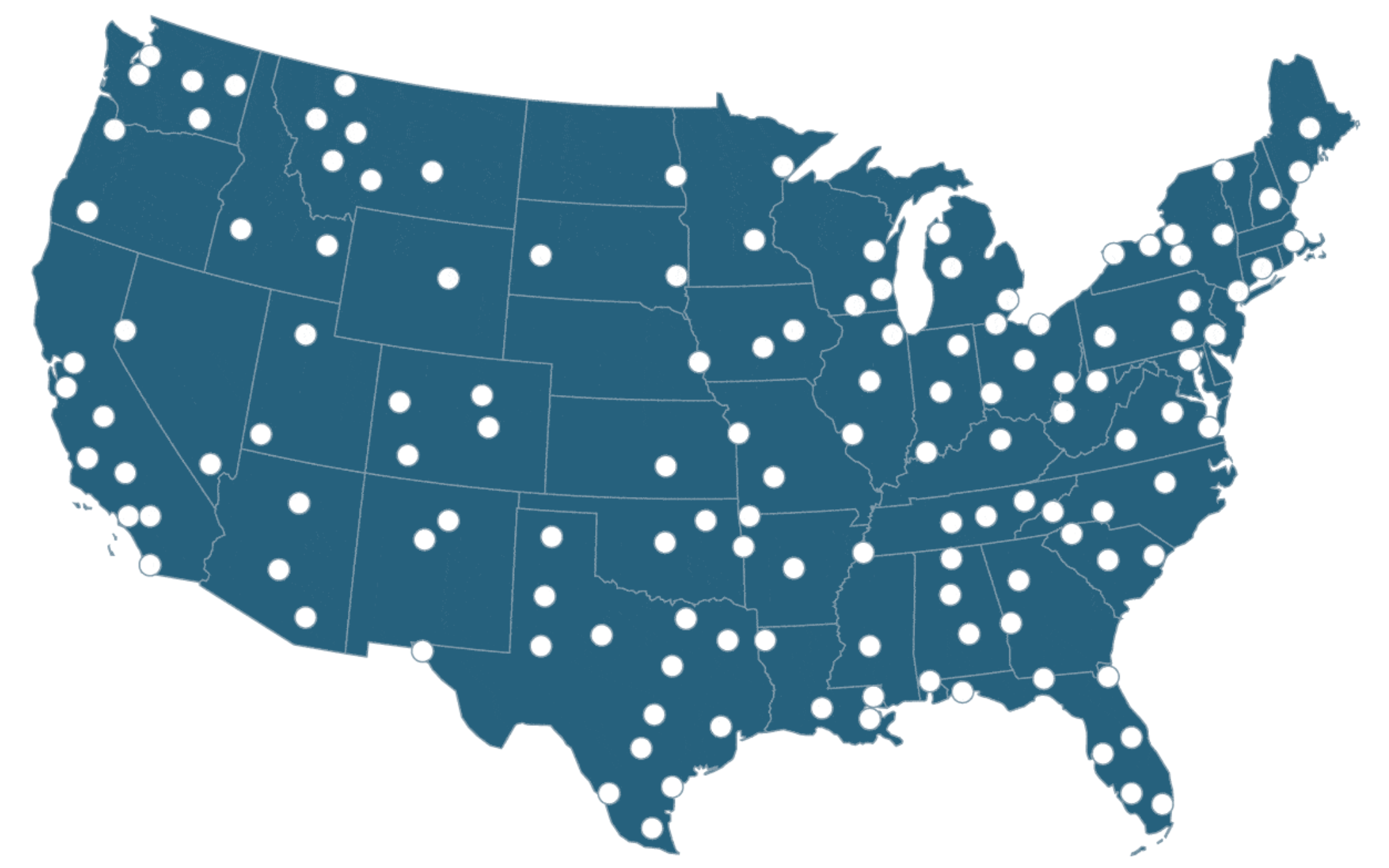 Request a free rate quote today!
We're ready to help you achieve your supply chain goals! If you would like to learn how our services can help you reduce your costs and improve your logistics strategy, contact us by email, phone (770) 672-4294, or by clicking the button below.
Contact us today